THE GORDIAN KNOT
tells the story of the poor farmer Gordios who plaited the Gordian Knot in gratitude for his nomination for king of Phrygia and dedicated it together with his chariot, shaft and yoke to Zeus in the temple of the proud town of Gordion. Alexander the Great heard of the strange masterpiece that no one could undo but the future sovereign of Asia. On his conquest that led him to Persia, he tried to undo the Gordian Knot, but failed. In his uncontrollable rage he cut the Gordian Knot into uncounted pieces with his battleaxe. This barbarian act rather stands for a violent destruction than the required denouement. The Gordian Knot still awaits his patience consuming solution...
DER GORDISCHE KNOTEN
erzählt die Geschichte des armen Bauern Gordios, der aus Dankbarkeit für seine Ernennung zum König über Phrygien den Gordischen Knoten flocht und ihn samt Wagen, Deichsel und Joch im Tempel der stolzen Stadt Gordion Zeus weihte. Alexander der Grosse hörte von dem wundersamen Kunstwerk, das keiner ausser dem zukünftigen Herrscher über Asien entwirren können würde. Auf seinem Eroberungskrieg, der nach Persien führte, versuchte er sich an der Lösung des Gordischen Knotens und scheiterte. In seiner unbändigen Wut hieb er den Gordischen Knoten mit seiner Streitaxt in ungezählte Stücke. Dieser barbarische Akt gleicht eher der gewaltsamen Zerstörung, denn der Lösung des Gordischen Knotens. Der Gordischen Knoten harrt noch immer seiner Geduld erfordernden Lösung...
IL NODO GORDIANO
racconta la storia del povero contadino Gordios che in segno di gratitudine per la sua nomina a re della Frigia intrecciò il Nodo Gordiano e lo sacralizzò a Zeus assieme con suo carro, il timone e il giogo nel tempio della città orgogliosa di Gordion. Alessandro Magno sentì dell'opera d'arte bizzarra che nessuno ad eccezione del futuro governatore d'Asia sarebbe stato capace di snodarlo. Durante la guerra di conquista che lo portò nel Persia egli tentò di snodare il Nodo Gordiano e fallì. Nella sua rabbia sfrenata lo tagliò in innumerevoli pezzi con la sua ascia di battaglia. Questo atto barbaro rappresenta piuttosto la distruzione violenta che la soluzione del Nodo Gordiano. Egli attende tuttora di essere pazientemente sciolto…
a musical and visual epos told by
MARSHALL ALLEN
alto saxophone, flute, mini piano, electronic valve instrument
KA
narrator, shaman drum, systrum
BA
narrator (Italian if requested)
AVREEAYL RA
drums, flute, thumb piano
GOETZ ROGGE
projection imagery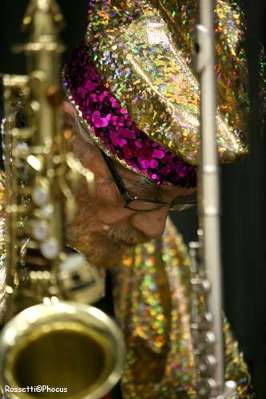 MARSHALL ALLEN @ UNCOOL 2009
Photo: Luciano Rossetti, Bergamo (I)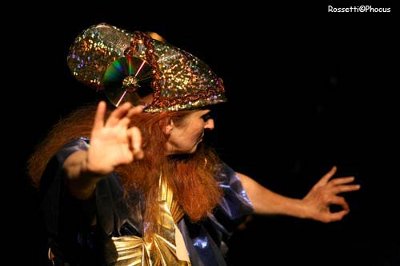 KA @ UNCOOL 2009
Photo: Luciano Rossetti, Bergamo (I)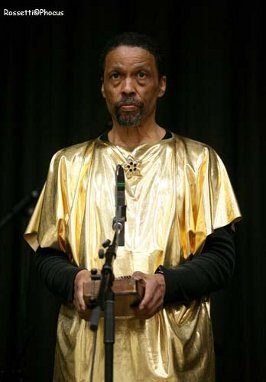 AVREEAYL RA @ UNCOOL 2009
Photo: Luciano Rossetti, Bergamo (I)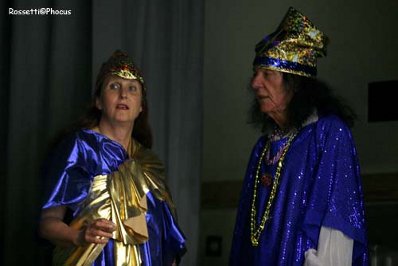 KA and BA @ UNCOOL 2009
Photo: Luciano Rossetti, Bergamo (I)